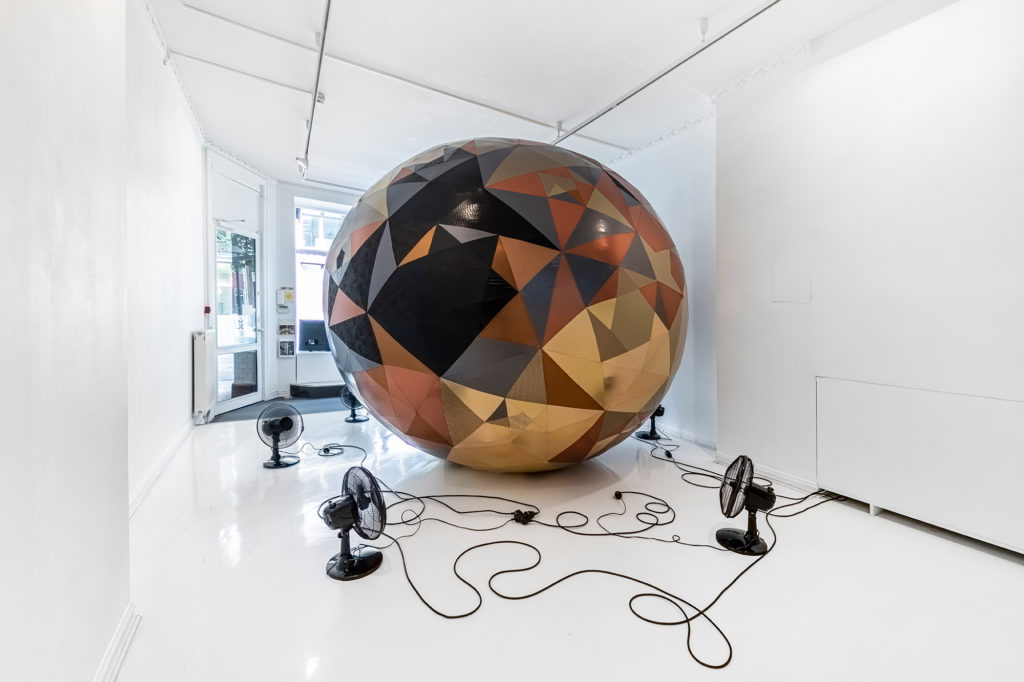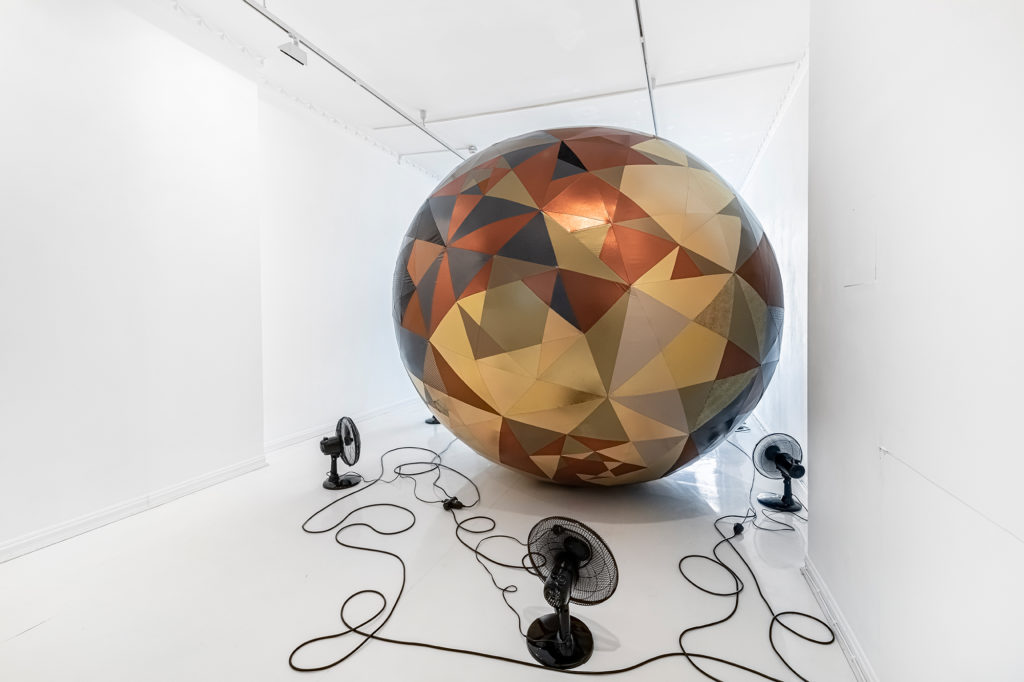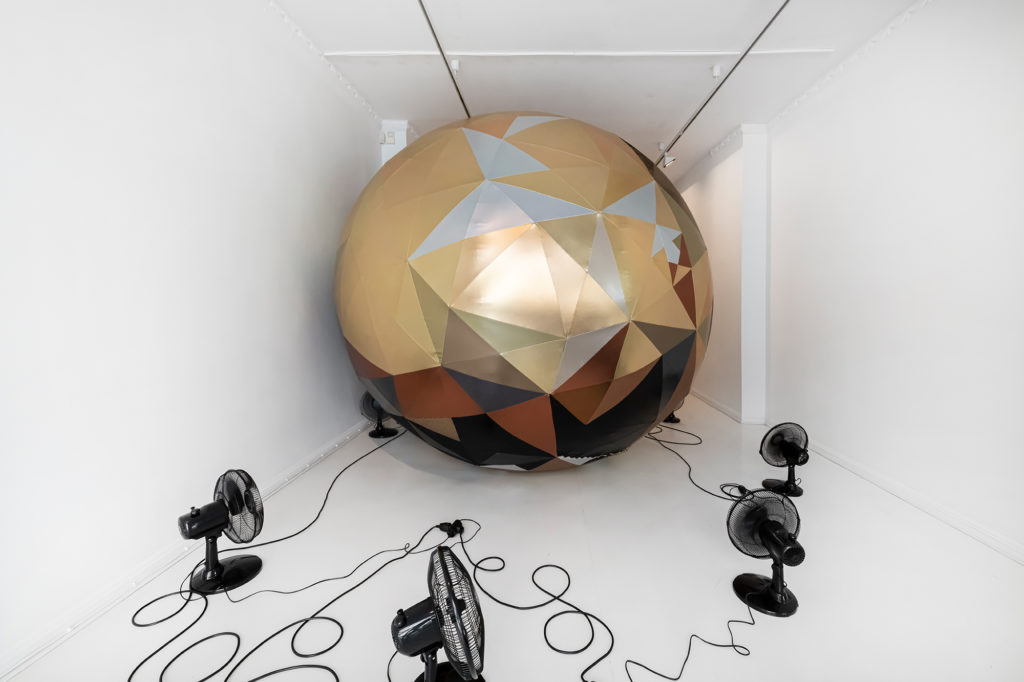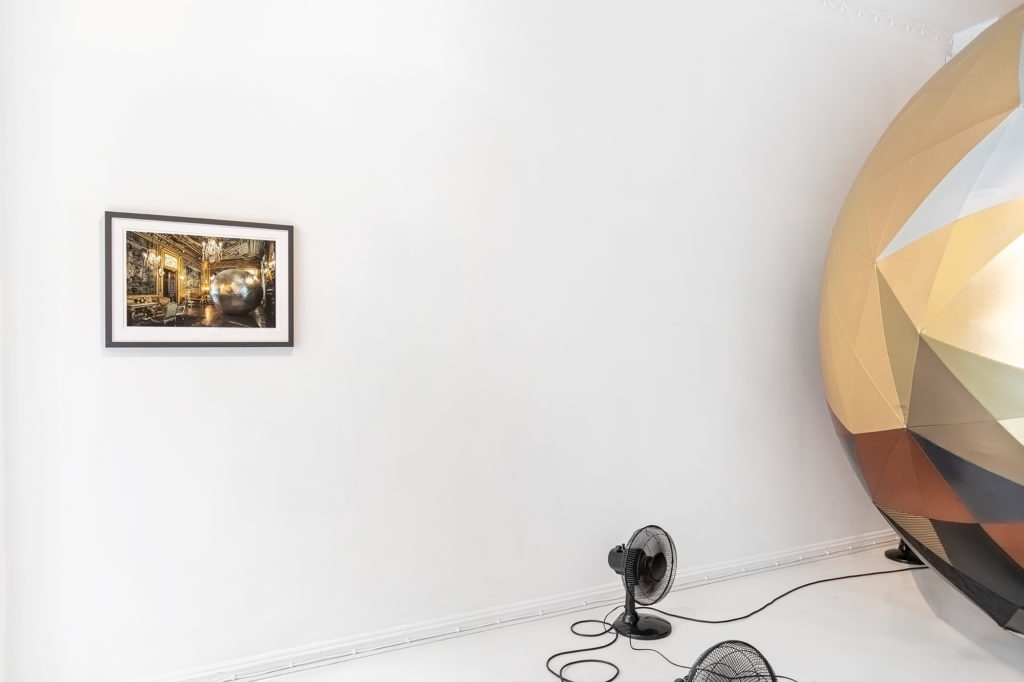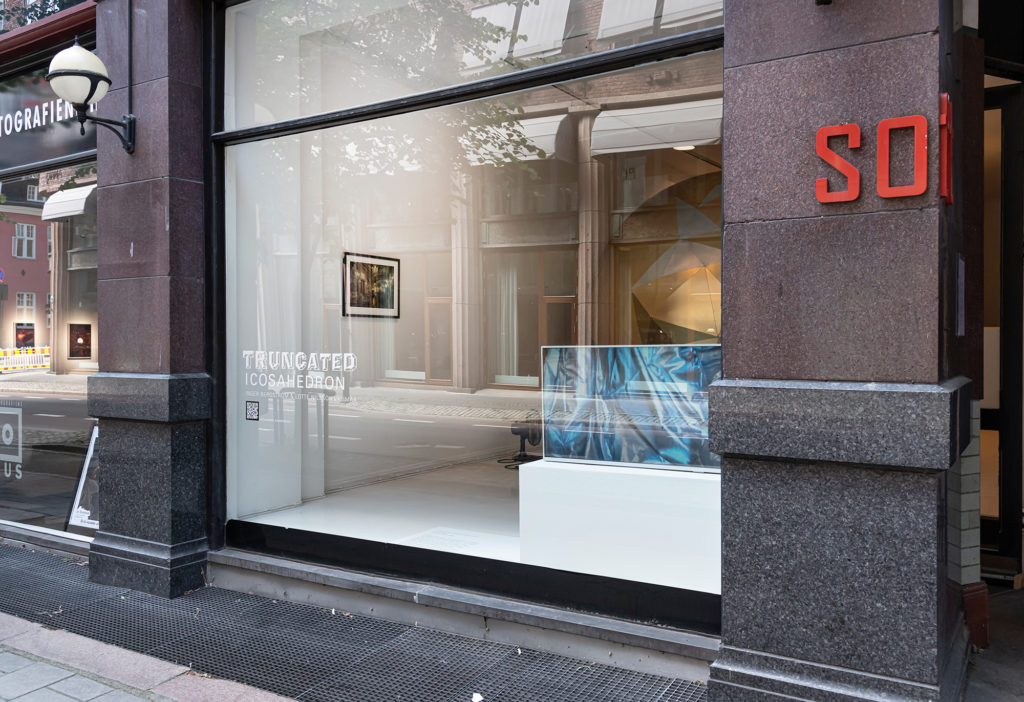 In this project, Bergström and Nilsson-Välimaa continue their artistic collaboration by once again, conceptually and materially, exploring a new place and context. Truncated Icosahedron – Site II is presented at SOFT Gallery in the form of an installation consisting of a monumental »soft sculpture« in motion and a video work with sound directed towards the street outside.
The video work depicts an event where a giant textile sculpture finds its way into the century-old palace, a former affluent home, now the Hallwyl Museum in Stockholm. The two artists, here as guides or guards, seem to move purposefully through the magnificent environment. They move at a steady pace with an entity consisting of silver-coloured fabric that wells forward gurgingly, flowing up the marble's cold steps. Together, the group resolutely moves forward, and drives on, passing the collection of portraits and further towards the parade floor. The heavy furniture scratches the parquet, forced to move – a surreal event in sound and image.
For SOFT Gallery, the artists have included a new spherical sculpture in the installation. This was created after the film session at the museum. The object forces us to sharpen our vision and the scale of the room shifts while capturing the ambience, colors and materials from the atmosphere of the Renaissance palace, explicitly expressed in the gold and ocher-colored fabrics and more implicit in the somewhat illusory mood. The oscillating activity of the simple table fans makes the sculpture move slowly back and forth – a brooding movement that does not seem to lead anywhere, all a melancholic and perhaps sublimely sculptural situation.
In the work on the project Truncated Icosahedron, the artists have noticed the connection between Archimedean bodies and three-dimensional patchworks. Archimedean bodies, of which the truncated icosahedron is one, are in geometry a collective name for various forms of convex, three-dimensional and geometric polyhedra. These polyhedra can be seen as ingenious sculptural methods to create spherical bodies from two-dimensional surfaces. The sculptural and monumental objects are built according to this principle – here a three-dimensional patchwork of cut pieces of fabric that, when properly assembled, form an absolutely spherical shell.
Truncated Icosahedron – Site I was shown at Fiberspace Gallery in Stockholm 2018 in the form of an installation with the silver, spherical, sculptural textile object and a sound work, as well as a technical interactivity that set the object in bouncing motion. Truncated Icosahedron – Site III will be shown at Hanaholmen's gallery in the autumn of 2021, this time in the form of a new installation where the video work is projected, while collaborating with the Finnish artist Paavo Halonen's sculptural objects.
Photo / Edit /Sound SVEN BLUME
Graphic Design SANNA HAVERINEN
Still Photo MIRJAM LAGERGREN
The project has been carried out with support from Nordic Culture Point and IASPIS.